GROW Series

The GROW series of Personal Ministries resources is currently under development. These resources will aid local churches in developing active ministries in the five phases of disciple-making: Prepare (Health Ministry Handbook and Community Outreach Handbook), Plant (Spread the Word), Cultivate (Bible Study Handbook), Harvest (Fundamentals of Faith), and Preserve (Discipleship Handbook).
Spread the Word
Spread the Word will inspire and prepare you to witness for Christ like never before and give ideas for mobilizing your local church!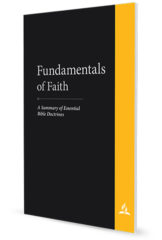 Fundamentals of Faith
Fundamentals of Faith is a simple guide to be used with those preparing for baptism or profession of faith.
Discipleship Handbook
The first resource to be published in the GROW Series is the Discipleship Handbook. This is your local church discipleship ministry … IN A BOOK!
GROW Videos and Training Guides
Making Disciples 101
This series of 12 short training videos with companion study guides provides an overview of the disciple-making process for individuals and local churches.
Other GROW Resources
Grow Your Church
This PowerPoint presentation will help you share the GROW model of making disciples with your church. Updated in 2021.
GROW Description and Ministry Goals
This GROW Tools & Tips gives an overview of the GROW model with practical keys to establishing essential ministries in every phase of evangelism.
Leave the Back Door Open
This GROW Feature Article by Elder Jim Howard focuses on the power of discipleship rather than merely retaining members.
Other Personal Ministries Resources